5 Things to Check Before Buying CBD
By Sunsoil •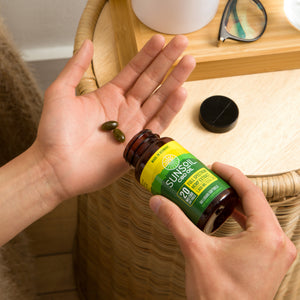 You've seen the thousands of CBD brands on the market today. Most of them make a lot of claims about their products and ingredients. With all of this information, it can be hard to tell if the brand you are taking is the best for you. 
To make it easier, here are 5 important ways to compare the leading CBD brands. 
Most people never think about #3 - but it can make a big difference in quality.
1.Is it certified organic?
Certified organic products must meet higher standards for quality and transparency. No use of synthetic fertilizers or pesticides. No genetically modified organisms (GMOs). When choosing a CBD oil that is not organic, make sure to ask the company for lab reports to ensure that the product is free of contaminants.
Only a handful of CBD brands are USDA certified organic. It's more costly for companies to maintain organic standards, but as a consumer, you should always demand the highest quality product that's free of potential contaminants.
Learn more about certified organic CBD products
2. Is it lab tested?
An FDA published study has shown that less than half of CBD products contain within 20% of the CBD stated on the label.
In that 2020 study, the FDA sampled 147 different CBD products. Of the 147 products, only 102 indicated a specific amount of CBD on the label. Here's what the FDA found:
18 out of 102 (18%) contained less than 80% of the amount of CBD indicated.

46 out of 102 (45%) contained within 20% of the amount of CBD indicated.

38 out of 102 (37%) contained more than 120% of the amount of CBD indicated.
Whichever CBD you choose, make sure the label is accurate by checking their Certificate of Analysis or COA. A COA is published by a third-party lab after they put the CBD oil through a variety of tests.
Does your CBD brand clearly publish their COAs on their website? 
Learn more about products with COAs
3. How is the CBD made?
Most companies use CO2 or ethanol to extract CBD from hemp. In this process they break down the compounds in the hemp, then put them back together.
Other companies use a natural process, called whole-plant infusion.  This entirely avoids the use of CO2 or potentially harmful solvents like alcohols. In an infusion process, dried hemp is heated and pressed into coconut oil. This process captures the naturally occurring range of cannabinoids in the hemp. Because it is minimally processed, the CBD oil has a deeper, earthier color and taste. Better yet, infusion is more cost efficient than CO2 extraction. 
4. Who farms it and makes it?
Many CBD brands claim to have control over their process, from "seed to shelf." But look more closely: do they grow hemp, or do they buy it from third-parties? Do they make CBD oil, or do they rely on outside manufacturers? 
Most of the top manufacturers contract with third-party farmers, both foreign and domestic, to source the bulk of their hemp. While they typically vet their sources, it does mean that they don't have full quality control.
Only a handful of companies can trace their plants from the greenhouse to the fields to extraction and to the final product. This gives these companies control over the quality from start to finish and the ability to deliver a better product. 
5. How much does it cost?
Once you understand the CBD's quality, you can assess it relative to its cost. After all, not all CBD is the same – some products are organic and contain high quality ingredients – so price is relative.
The way to compare prices is to calculate the price per milligram of CBD. Most companies charge between 10-15 cents per milligram. Some charge upwards of 20 cents per milligram.
It's possible to find brands that charge much less (closer to 5 cents per milligram). But make sure that those companies are offering high-quality CBD.
Choosing a quality and effective CBD doesn't have to be hard. Comparing the leading brands in the 5 key areas can help you pick the best one for you.