From Customer to CEO
By Sunsoil •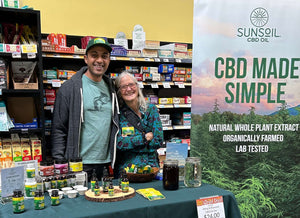 Sunsoil recently announced a new CEO, Bharat Ayyar.
In his new role, Bharat will lead the company's day-to-day operations while the founders, Alejandro and Jacob, focus on farming and manufacturing initiatives to reduce the price of our CBD. (Our goal is to reduce the cost of CBD by 80 percent.)
We sat down for a Q&A with Bharat to talk about his journey with CBD, and the future of Sunsoil.
Q. How did you come to be involved with Sunsoil?
I started out as a customer, back when the company was called Green Mountain CBD.
In 2018, I was dealing with a lot of work stress and sleep issues that were taking a toll on my body and well-being. I'd heard from a friend that CBD oil might help, and a few hours of research online led me to Sunsoil.
Within a few days of taking Sunsoil, I was — to my surprise and great relief — feeling like myself again. I felt like I'd discovered a hidden gem.
So it was all very serendipitous when a recruiter reached out to me in 2020 (I was living in New York City at the time) and told me about an opening at a "small company in Vermont." I jumped at the opportunity.
Q. What is your favorite part about working for Sunsoil?
I truly believe in our products and the impact that we're trying to make in the world.
Running a small business is extremely difficult, especially in the CBD industry which has seen lots of volatility and regulatory uncertainty.
It helps to read the reviews and emails that come in everyday from our customers — to hear about the impact that Sunsoil is having on their lives. It keeps us all going.
Q. What is your favorite Sunsoil product?
Our softgels. They are boring and funky and effective, which is a wonderful combination.
When I tell new people that I work at a CBD company — especially those who aren't familiar with CBD — I think that they tend to visualize "doobies" and clouds of smoke.
Little do they know that our best-selling product is a funky pill that closely resembles a black bean from afar. They are easy to travel with, have a consistent serving size, there's not much to improve upon.
Q. What changes need to be made within the CBD industry? What impact would these changes have on Sunsoil?
Congress and the FDA need to regulate this industry. Most products on the market are poorly controlled, and give a bad name to CBD.
We need clear regulations around the potency and purity of products. Companies need to be held accountable if what's on the label doesn't match what's in the product.
Similarly, there needs to be standards around testing to make sure that contaminants and impurities aren't in CBD products.
Q. What is promising about where the CBD industry stands right now?
We're still very much in the early days of our scientific understanding of cannabis and CBD, despite the fact that it's been used for centuries. That's pretty exciting.
Despite the hardships and regulatory uncertainty that exists today, the industry should grow in the long-run as the science of cannabinoids proves out.
Q. What is your vision for Sunsoil 10 years from now?
Alejandro and Jacob, Sunsoil's founders, have said it best. Sunsoil should be on the shelf at your local pharmacy right next to Advil.
CBD oil could bring benefits to millions of people in this country, but the biggest roadblocks are quality and price.
At Sunsoil we've got the quality part dialed in. From here, our challenge is to relentlessly focus on improving our operations so that we can cut prices. That's the future.
Q. What do you do for fun?
I have a few things on my bucket list for the summer. I played tennis in high school and want to get back into it. I'm swallowing my pride and taking swimming lessons this summer at the local pool, which should be fun.
During the pandemic, my wife Rachel and I started a family band to break up our nightly Netflix routine. I play the guitar and she sings. Let's just say that we need a lot more practice before we take this show on the road.