What's the Difference Between Pet and Human CBD?
By Sunsoil •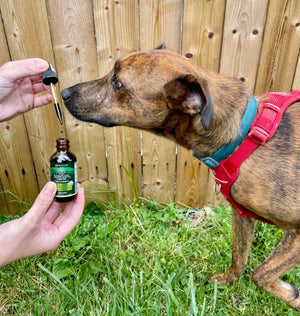 Pet CBD products have gained popularity among pet owners seeking natural solutions to support their furry companion's well-being.
Derived from hemp plants, CBD (cannabidiol) is a non-psychoactive compound known for its potential therapeutic effects. CBD offers potential promise for anxiety relief, pain management, and overall improved quality of life for your four-legged friends.
But is pet CBD really that different from human CBD? And is it worth the added cost?
Generally speaking, the answer is no. Using human CBD for your pets can be safe, effective, and save you lots of money.
Still, there are three things to consider while shopping for CBD for your pet: ingredients, quality, and price.
Avoiding Toxic Ingredients
Pet CBD products should be made without the use of ingredients that are toxic to animals. 
That's not always the case with human CBD products, where certain flavorings or additives might not be suitable for your pet.
Ingredients such as chocolate, essential oils, and artificial sweeteners like xylitol are harmful or toxic to pets. Your best bet is to look for products with as few ingredients as possible.
Pet CBD products might contain other ingredients and flavors to make them more appetizing to a dog or cat (like bacon flavoring). However, these added ingredients typically don't provide any added benefits.
As such, a human CBD product with simple ingredients (like just hemp and coconut MCT oil) will likely be just as effective as a pet CBD product and cost less money.
To make human CBD more appetizing for your pet, you can consider mixing it into food or water.
Choosing High-Quality CBD Oil
Pet CBD is unregulated, which makes it especially important to buy from a transparent brand that provides independent verification of their ingredients and processes.
Choosing a quality CBD oil encompasses more than just the ingredients in the product. Quality encompasses everything from farming and manufacturing processes to product labels and testing.
Reputable companies will share a third-party Certificate of Analysis (COA). A COA will confirm the potency and purity of the product. The potency of the product is the amount of CBD in each serving.
Leafreport conducted independent testing on 55 pet CBD products to assess their CBD levels compared to what was advertised on their packaging. The Leafreport testing uncovered discrepancies in the CBD content of many products, with 56% having inaccurate label claims, which raises concerns about transparency and quality control within the pet CBD industry.
The COA will also tell you whether the product contains detectable levels of THC. Some pet owners may choose to only use CBD isolate or broad-spectrum products, which are specially processed to remove THC. We recommend speaking with your veterinarian about whether that's appropriate.
Finally, the COA will also confirm that a product is free of contaminants, such as heavy metals that the hemp may pick up from its soil. Try to buy from companies that use organic farming practices, as this will mean no synthetic pesticides or fertilizers were used on the hemp that your pet is consuming.
Avoiding the "Puppy Tax"
Once you've determined the quality of a product, the next-most important factor is price.
After all, if your pet CBD is prohibitively expensive, it may be difficult to keep purchasing it for your pet even if they benefit from it.
This is why it's important to consider the value that you're getting when you buy a pet CBD product. We pulled a list of some of the top pet CBD products, to understand the cost per milligram of these products relative to high-quality human CBD products.
Pet CBD products can cost 3-10 times more than human CBD products of the same potency. You may have heard of the "pink tax." We call this the "puppy tax."
Sunsoil Unflavored CBD (for Humans)
Ingredients: Full-spectrum hemp extract, MCT oil

CBD Content: 600mg CBD per bottle

Price: $15

$30

 

(buy one, get one free)

Cost Per Milligram: 2.5 cents per milligram
Charlotte's Web Hemp Extract Drops for Dogs
Ingredients: Full-spectrum hemp extract, Fractionated coconut oil, Natural chicken flavor

CBD Content: 510 mg CBD per bottle

Price: $59.99

Cost Per Milligram: 11.7 cents per milligram


4.7 times more expensive
+PlusCBD Pet Oil Beef
Ingredients: Full-spectrum hemp extract, Organic extra virgin olive oil, Natural flavor, and Quillaja saponaria

CBD Content: 500mg CBD per bottle

Price: $44.99

Cost Per Milligram: 9 cents per milligram


3.6 times more expensive
CBDfx CBD Dog Tincture Chicken Flavor
Ingredients: CBD-rich hemp oil, MCT oil, Natural chicken flavor
CBD Content: 600mg CBD per bottle
Price $44.99
Price Per Milligram: 7 cents per milligram
2.8 times more expensive
King Kanine King Kalm CBD
Ingredients: Naturally occurring broad spectrum cannabidiol (CBD), DHA from fish, Copaiba essential oil, Krill oil, and Hemp oil
CBD Content: 600mg CBD per bottle
Price: $99.99
Price Per Milligram:16 cents per milligram
6.4 times more expensive
Pet Releaf Hemp Health Liposomes CBD Oil for L/XL Dogs
Ingredients: Organic full-spectrum hemp extract, Acacia gum,

Astaxanthin (from microalgae (Haematococcus Pluvialis)), Natural flavor, Potassium sorbate, Purified water, Sunflower lecithin, Vegetable glycerin, Xanthan gum

CBD Content: 600mg CBD per bottle
Price: $143.99
Price Per Milligram: 23 cents per milligram
9.2 times more expensive
The Bottom Line: Can Pets Take Human CBD?
When considering CBD for your pet, it's crucial to evaluate factors such as ingredient quality, transparency, and reliable lab testing.
While affordability is important, ensuring a trustworthy product with accurate CBD levels is paramount. High-quality CBD will provide a Certificate of Analysis (COA) from a third-party lab, traceability of the hemp, and a full ingredient list with instructions for use.
While Sunsoil doesn't specifically offer a line of pet CBD products, our organic unflavored CBD tinctures are pet-friendly.
With only two ingredients — hemp grown on our organic certified farm in Vermont and MCT oil — Sunsoil unflavored tinctures provide you with the peace of mind that your pet is getting human-grade CBD oil. Sunsoil works with third-party labs to ensure the potency and purity of its products. And lastly, Sunsoil's products can be purchased for as little as 2.5 cents per milligram.