The Battle for CBD Regulation
By Sunsoil •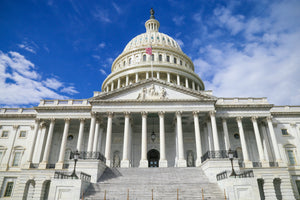 In the ever-evolving landscape of CBD, the road since the Farm Bill's passage in 2018 has been tumultuous, to say the least.
For companies like ours, understanding the intricate web of regulations is essential, not just for us but for you, our dedicated consumers.
Let's delve into the recent twists and turns in the CBD regulatory realm.
The FDA's Stance on CBD
The Farm Bill of 2018 federally legalized the cultivation and sale of hemp and its derivatives, marking a monumental shift in U.S. agriculture and commerce. However, despite this green light from Congress, the FDA maintained that marketing CBD in food or as a dietary supplement is illegal, creating a complex regulatory environment and posing challenges for businesses.
For years, consumers and industry leaders have been calling on the FDA to regulate CBD. The FDA's own studies have shown that CBD products are widely mislabeled. And third-party studies have shown that many CBD products contain contaminants such as lead.
However, earlier this year, in 2023, the Food and Drug Administration (FDA) announced that it was unable — under its existing authority — to establish regulations for CBD products. The agency passed the buck to Congress to create a new regulatory pathway for CBD.
This hands-off approach by the FDA has been met with surprise, concern, and a fair share of frustration. A regulatory body of its stature stepping back has left many in the industry questioning the direction of the CBD market.
Repercussions on the CBD Industry
The FDA's inaction has had substantial ripple effects. The entire hemp industry has taken a significant downturn over the last few years.
The years following 2018's Farm Bill saw a rise in poor-quality products that may have turned potential customers off to CBD after having subpar experiences.
Moreover, large retailers such as Whole Foods, Kroger, Safeway, and Walgreens won't commit to stocking ingestible CBD products, pointing to the FDA's lack of regulation. Furthermore, major food, beverage, and supplement brands have mostly refrained from entering the market. This ultimately hurts consumers as lack of competition keeps product quality low, and prices high.
The USDA's National Hemp Report from April 2023 revealed that the total hemp production for 2022 was valued at just $238 million, a sharp 71% decline from the $824 million recorded in 2021.
A lack of clear, federal guidelines means that companies, especially those who want to prioritize the safety and well-being of their consumers, need to grapple with uncertainty.
The Challenge of Intoxicating Hemp Products
Adding to the challenges of the industry are intoxicating hemp products.
In addition to CBD, the 2018 Farm Bill technically also made it possible for manufacturers to convert hemp into a range of cannabinoids like delta-8 THC, HHC, and more. These products offer a psychoactive experience more akin to THC, the widely known intoxicating cannabinoid in cannabis.
Companies have seized on this loophole created by the Farm Bill. Many have released seltzers and gummies that contain intoxicating serving sizes of delta-8 THC or other cannabinoids. These products can be freely sold, even in states where marijuana is illegal.
A Mosaic of State Regulations
In the absence of clearer federal regulation, this has prompted a response from states. Unfortunately, in their attempts to outlaw intoxicating cannabinoids, many states are also banning full-spectrum CBD oils that contain trace and non-intoxicating levels of THC.
New York, Connecticut, Virginia, Maryland, Washington, and Minnesota are just a few of the states that have either partially or completely restricted the sale of full-spectrum CBD oil in brick-and-mortar locations.
(Online sales of CBD oil are not restricted by these state laws.)
Such variations make it complex and costly for companies like ours to serve our customers, creating even more urgency for Congress and the FDA to provide regulatory clarity. 
Sunsoil's Unwavering Commitment
Through all these challenges and uncertainties, Sunsoil's mission remains unwavering: to produce high-quality CBD products and make them accessible to all by maintaining the lowest possible price.
Our commitment to transparency, quality, and the well-being of our consumers is our North Star. We believe that, irrespective of the regulatory environment, staying true to our values will guide us forward. 
The post-Farm Bill era has brought its share of regulatory challenges for the CBD industry. But at Sunsoil, our dedication to you remains as strong as ever. We remain hopeful and proactive, advocating for a clearer, more supportive regulatory landscape. Together, we'll navigate these challenges and continue to harness the incredible potential of CBD.