Coconut Oil — SOLD OUT 600 mg Total CBD
CBD that costs what it should.
We set out to make the world's best CBD oil. What we learned was powerful: the best CBD oil also costs less—when you make it right. We grow 100% of our hemp. Then we make CBD oil using a naturally efficient, whole-plant infusion process. We do it all in-house, so that you get better CBD for less.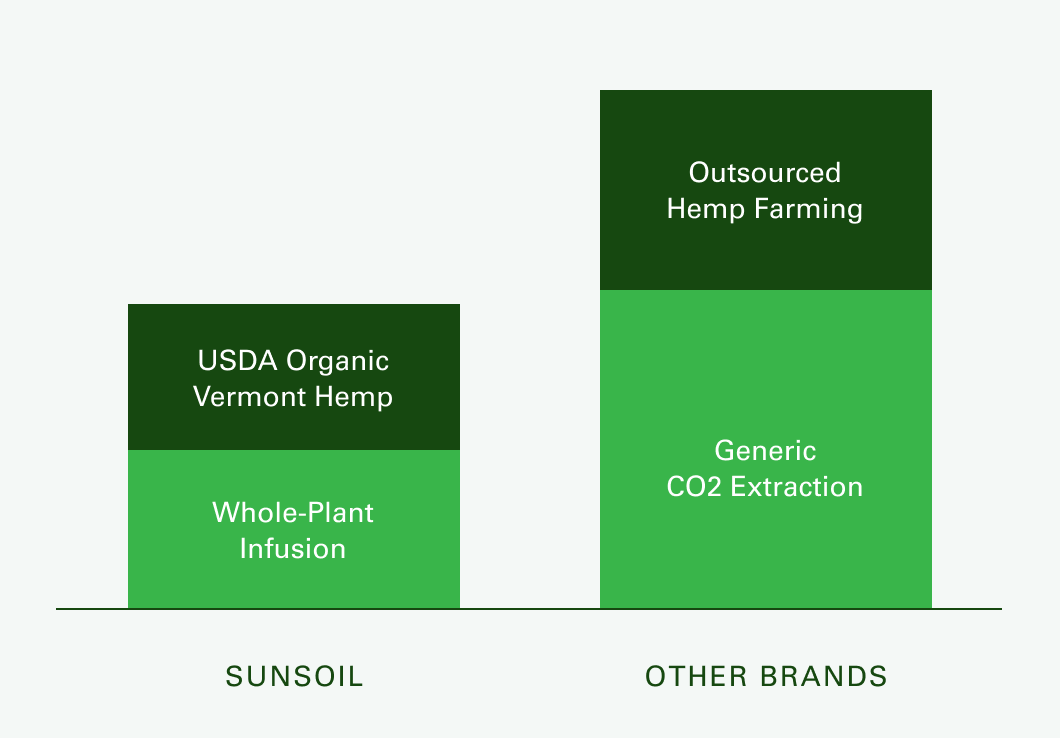 Description
We make our CBD coconut oil with just two simple ingredients: organic hemp and organic coconut oil. This full spectrum, whole plant CBD coconut oil can be consumed orally (as-is), used in recipes, or applied topically. It's also a great option for pets. Each jar comes with a 1ml measuring spoon so you know exactly how much CBD you're getting. One 1ml spoonful of this product contains 20mg of CBD, the equivalent of one of our capsules or softgels. Each jar contains 600mg of CBD total, or 30 x 20mg servings.
Our CBD coconut oil becomes solid when stored below 74°F. It is normal to see changes in the color and viscosity of this oil as the temperature changes. When cold, this oil can solidify, and you may see light spots form where the oil is solid. When warm, the oil is a darker liquid.
Made with two simple ingredients: organic hemp and organic coconut oil
Full spectrum, whole plant CBD extract
USDA Certified Organic hemp
Naturally extracted using organic coconut oil
Third party lab tested at three ISO-accredited labs
Unflavored formula great for cooking
Safe for pets
Sunsoil brings you full spectrum, whole plant CBD oil that's organically farmed, naturally extracted, lab tested, and accessibly priced. All of our CBD oil starts on our farms in Vermont, where we grow USDA certified organic hemp without pesticides or herbicides. From there, we extract CBD from hemp naturally using only organic coconut oil with a process called lipid infusion. Lipid infusion allows us to capture the full range of cannabinoids and terpenes in the hemp plant, and extract CBD very efficiently. The result is a premium, whole plant CBD oil that's priced affordably.
We lab test our CBD oil at multiple points throughout the process at three independent, ISO (Independent Standard Organization)-accredited labs. Testing starts at our soil to ensure our plants are nutrient rich and glyphosate free. From there we continue to test at every step in the process, up to 16 times, with third party independent labs to ensure purity and potency of our CBD.  We verify that the amount of CBD on our labels is actually in our products and we ensure that any adulterants stay out of our products. We post lab results on our website for complete transparency.
Ingredients
1. Organic hemp
2. Organic coconut oil
Third-Party Lab Tested
We test each new batch of product at three independent, ISO‑accredited labs.
We verify that the amount of CBD that we state on our labels is accurate. And we ensure that our products are free of contaminants and impurities.
View Results