Making Organic CBD Accessible
By Sunsoil •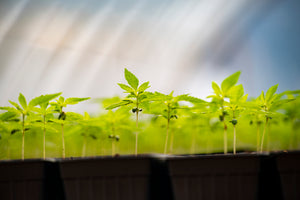 Making CBD cost what it should
Sunsoil makes great CBD that costs less — because we make it right.
At Sunsoil, we do everything ourselves. We farm our hemp. We make our CBD oil on-site. Doing everything under one roof means we save costs, even while using the best ingredients and maintaining the highest standards.
We also developed a naturally efficient method for making CBD oil. We call it whole-plant infusion. Rather than using costly CO2 extraction to make CBD oil, we simply infuse dried hemp in coconut oil. It leads to a rich, natural extract at a fraction of the cost. That's how we make great CBD for less. So that we can pass on the savings to you.

Effective and Accessible
Many find full-spectrum hemp to be an exceptionally effective medicine. From better sleep to relief from pain, our customers tell us that Sunsoil is often the only thing that works.
Currently, CBD costs more than it should. Our price remains one of the lowest in the country, but we know we can do better. 
How?
By investing in automating processes at our farm that decrease the cost of harvest and cultivating larger plants with more CBD. We are constantly looking towards innovations that drive efficiency. 
As we continue to scale and increase efficiency, we will always prioritize transparent and ethical pricing. Through these initiatives, we are bringing our mission to life and making it easier than ever to have access to whole-plant infused CBD.